NEWS
Eddie Vedder Sings Some Songs in Honor of Team Coco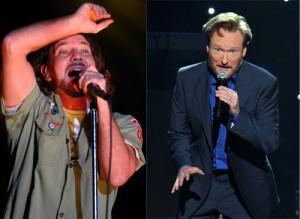 Eddie Vedder made a guest appearance at Conan O'Brien's The Legally Prohibited From Being Funny on Television Tour in Seattle last night. The Pearl Jam front man rocked out in honor of Team Coco, celebrating the ginger comedian's birthday, as he turned 47 on Sunday!
Eddie performed two songs solo — the first was "Rise," from his 2007 soundtrack to Into the Wild, and the second was a hilarious version of John Lennon's "Oh Yoko!" on a ukulele, replacing the refrain with "Oh CoCo," E! Online reports.
Article continues below advertisement
"It's basically a little Valentine's Day card, or maybe a birthday card I made for Conan," Eddie told the large crowd. "And if you sang along it would be like you signing the card."
Pearl Jam was the first musical guest on Conan's Tonight Show.
Coco was sure to relay his excitement about Eddie's performance to his followers on Twitter: