NEWS
Eight Crazy Secrets We Learned Sitting in the Audience of 'The Soup' with Joel McHale!

There's a lot of reasons to love Joel McHale. He's hilarious. He stars as too cool for school (literally) Jeff Winger on Community—which is FINALLY back on NBC tonight at 8 p.m. ET. His stand-up comedy will leave you laughing so hard you'll need to catch your breath. And as host of E!'s The Soup, Joel's a master at mocking the best—and worst—of the week in TV. It's a show that I look forward to because I can't wait to see if Joel will make fun of some of my guiltiest pleasures (Honey Boo Boo, Vanderpump Rules and any Real Housewives often make the rounds) or just introduce me to shows I never knew existed, like Alaska State Troopers.
Article continues below advertisement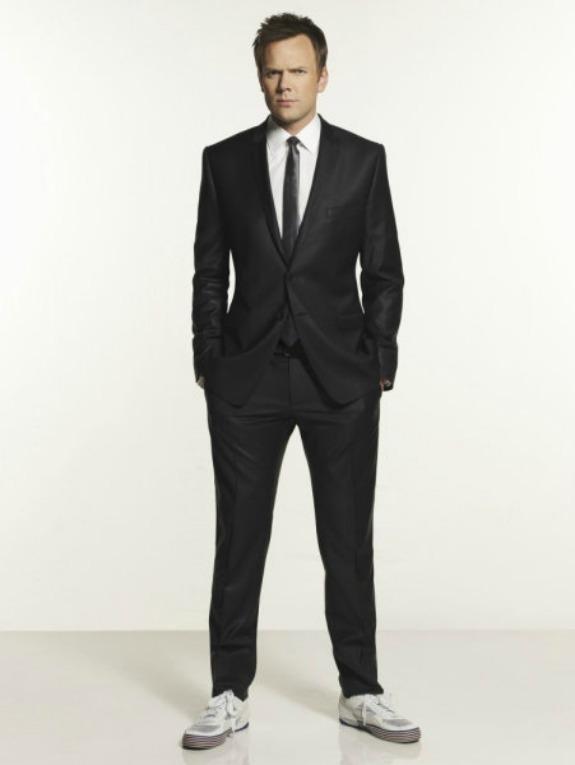 So, when I was invited to be in the studio audience of a Soup taping yesterday, I couldn't believe my luck! It was only a few weeks ago that I was in the audience of my other favorite late night show, Watch What Happens Live. The Soup filmed in New York City this week while Joel was in town promoting the return of Community. Being in the audience pretty much means you do not stop laughing the ENTIRE time. Joel, his producer AND the special guests keep the quips coming during the taping and between every take. Dr. Oz and NBC Nightly News host Brian Williams were the guest stars yesterday and let me just say this, Joel should fear that Brian will one day get bored of hard news and take his job. He is hilarious.
Read on for more of the antics between Joel and Brian and the eight secrets of The Soup that we discovered just for you!
1. You May Only Laugh at the Jokes. While watching at home, it's so fun to yell at the screen things like, "Are you kidding me?" during a particularly racy clip of lets say, RuPaul's Drag Race. But once you take your seats, the producer begs us to whoop, cheer and laugh as loud as we want—but the comments must stay to ourselves. It's was hard but I didn't want to get kicked out!
Article continues below advertisement
2. What You See on TV is NOT What You See in Person. It's no secret that The Soup is filmed in a front of a "green screen." Sorry to disappoint if you thought that the backdrop of LA (or in this case NYC) was really behind Joel but that's added in later. It's cool and yet a bit jarring to watch the show tape because Joel literally stands in front of a "green screen" with two TV monitors on either side of him that show the clips for the audience to react to. It's bare bones but it works!
3. The Celebrity Guests Just Hang Out. Speaking of "green screens," you always hear about the infamous Green Room at talk shows where celebrity guests go and hang out before it's their turn to come out on stage. Well, at The Soup, sitting in front of the "green screen" is about as fancy as it gets. Imagine my surprise when Dr. Oz and Brian Williams came out before the taping started and just sat on the side until it was their turn to be on camera? We all cheered like mad for them and then they just sat down. Joel chatted with them in between takes and that was one of the best parts of the day. He asked Dr. Oz how many steaks he could eat a week (answer is one) and asked Brian Williams if he'd ever met Chevy Chase. Maybe you had to be there but it was pretty hilarious. Especially the chemistry between Joel and Brian. For example, Brian couldn't get over the fact that the "control room" for The Soup was just a bunch of producers sitting at a card table (that's the truth too!)
Article continues below advertisement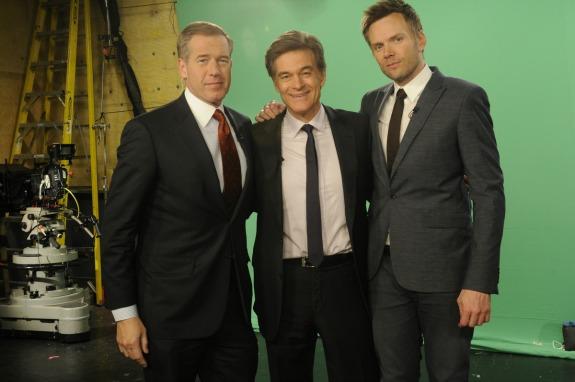 4. Jokes are Done in Real Time! You really get to see the magic happen in front of you. If a punch line to one of the clips doesn't work—either the audience barely reacts or Joel just can't find the right way to deliver it—they'll fix it right then and there! Joel and his producers will excuse themselves, go huddle in a corner and a rewrite a better joke in seconds.
5. Joel Loves to Chat—and Is So Sincere! The Soup may only be a half hour (and really just 22 minutes or so when you count commercials) but it does take over an hour to shoot. They have to stop several times to adjust lighting, mics, load clips, add new things to the teleprompter, talk to the team in LA . . . the list goes on. But not to worry, this is to the advantage of the audience! Joel loves to get to know everyone and ask questions. He wanted to know if he met anyone before and was super psyched to see some of his former interns in the audience too! He'll also give random thoughts on things like The Matrix sequels (not his favorite) and where you can catch him on TV (we heard several times he was heading over to Letterman). I shouted out that my husband and I saw him do stand-up at Carnegie Hall a few years back and he was truly happy to hear that we went to one of the biggest shows of his career!
6. You Get Bonus Soup! The mini clips you see on the web (Condensed Soup) and the funny promos and interstitials you see on E! (like Instant-Soup) are filmed with the audience still there, after the big show is wrapped. It's fun because they run some of the same clips BUT with slightly more daring jokes! Like this one:
7. Brian Williams Needs to Do Stand-Up. Seriously, he was so friggin funny during his bits on The Soup but off-camera was where the real magic happened. Brian couldn't help but give Joel a hard time about everything from the names Joel kept dropping to the fact that the news room would never allow a studio audience. But, when Joel asked the crowd if we watched HBO's Girls since you know, Brian's daughter Allison Williams is one of the stars, there was nothing but pride on Brian's face. Joel definitely caught it and didn't make a joke—thought you knew he was dying to. It was a nice moment!
Article continues below advertisement
8. Did I Mention How HUMBLE Joel Is? After the show was officially wrapped, Joel welcomed everyone to come over and take pictures and chat. He was truly honored that we all took time out of our busy days to come sit in the audience. He even thanked my husband and I again for seeing him at Carnegie Hall! And, in case you needed further proof that Joel is a nice guy, he even admitted that he really likes Ryan Seacrest (who he teases mercilessly on The Soup) and said he's super funny too! Who knew? Check out me, Joel and my husband Nathanael—who could not have been more estactic to meet Joel!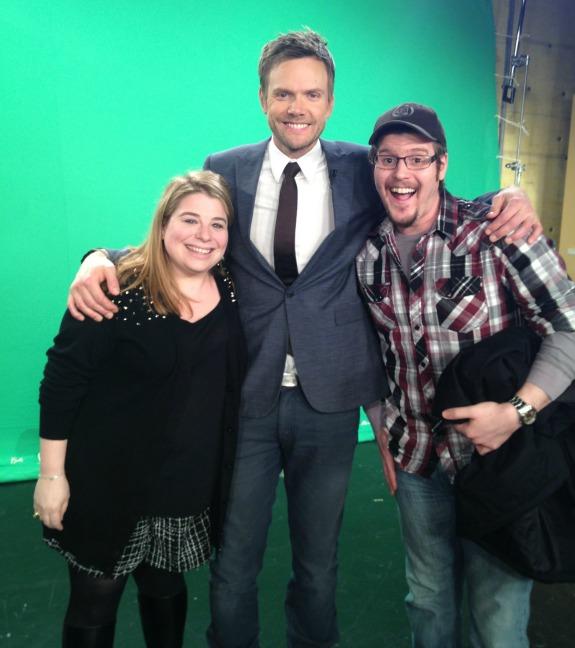 Do you watch The Soup? What "secret" were you most surprised to learn? Are you psyched for Community to return? And don't forget to watch The Soup Wednesday nights at 10 p.m. ET on E!
Tell us all in the comments section below or tweet @OKMagazine!