NEWS
Love Andy Cohen? Here's Seven Secrets of Being in the 'Watch What Happens Live' Audience!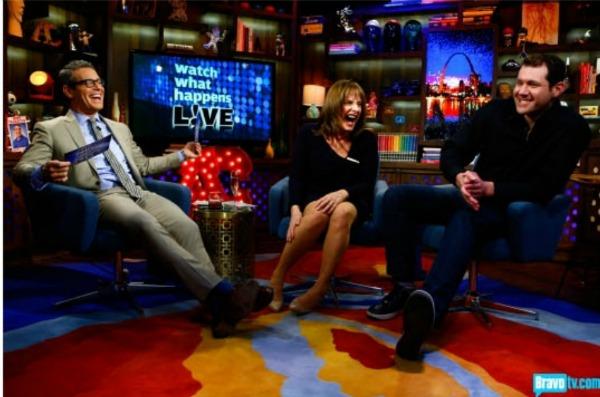 As a self-professed Bravo addict, my day is not complete until I wind down with the "word of the day," a little "game time" and a big ol' "Mazel" from Andy Cohen, host of my favorite late night show Watch What Happens Live! WWHL is appointment TV for me so it was literally a dream come true when I was given two tickets to sit in the live studio audience last night!
I couldn't have come on a better night as the guests were Broadway legend Patti LuPone and Billy Eichner, one of my favorite comedians who hosts Funny or Die's Billy on the Street on Fuse.
Article continues below advertisement
So, is being there live as much fun as it looks on TV? Not to brag but it's MORE fun than you could ever imagine. Here's seven fun secrets about what really goes on behind-the-scenes at WWHL!
1. The Party Starts at Check-In. No joke. We walked in to the reception area where music was blaring (Beyonce, "Love on Top" to set the mood) and an array of alcohol and mixers sat on the desk. The first words we were greeted with were, "Welcome! What can I get you to drink?" Basically the party starts a good thirty minutes before the show!
2. The Clubhouse is Way Different in Person. When you see Andy's "den" on TV it looks like a huge bungalow tucked away in a ski house. That's the magic of TV for you! You actually walk through a maze of cubicles and offices (where the WWHL team is hard at work) to a tiny little studio tucked away in a corner. There were maybe 30 people in the studio total, both working on the show and watching it, but the intimate setting really works. I really felt like the VIP guest at an exclusive party.
Article continues below advertisement
3. The Pre-Show is Fun. Okay, so there isn't an official "pre-show" but lots of interesting things happen before things go live at 11 p.m. ET. For example, your drink orders are taken as it's pretty much an unofficial rule you must have an alcoholic beverage in your hand at all times. Andy comes in and says hi to the crowd and then films some promos for future shows (FYI, Whoopi Goldberg and Mary J. Blige are coming to the clubhouse soon together). And then a producer gives us very specific instructions to cheer in several different ways—"WooHoo" like Real Housewives of Orange County star Vicki Gunvalson and in a "Gone with the Wind Fabulous" manner a la Real Housewives of Atlanta star Kenya Moore! Trust me, we're all so excited that we don't need much prompting though I loved that a Housewives reference is never far behind in WWHL land!
4. You Can Reach Out and Touch the Guests. Okay, so maybe not touch but you're right there with them. Seriously, Andy, Patti and Billy were just inches away so we could hear everything they chatted about during breaks—including Beyonce's lip syncing controversy. It was also "shot ski" night so Andy explained to Patti how such a thing works and warned her it was strong, saying a certain homemaking superstar once got a lot tipsy from the shot and was drunk during the After Show. Of course, everyone got make-up touch ups between takes and Andy checked his phone for important messages.
Article continues below advertisement
5. The Show Doesn't End at 11:30. Oh no! The party keeps going and the guests get to stay for the After Show that airs on BravoTV.com where the questions get a little juicier. Patti actually dissed Catherine Zeta Jones for nabbing a role she wanted and Billy talked about wearing boxers or briefs (answer is boxer briefs). And like the homemaker mentioned above, Patti was definitely feeling her shot ski shot!
6. You Can "Hear" Yourself at Home. You definitely won't see yourself on TV if you're in the WWHL audience, but you will hear yourself. Or at least that is what I was told. I had no less than five texts from friends watching who recognized my laugh throughout the show (can you blame me? It was a hilarious combo last night!)
7. Andy's a Doll. I know that's no secret but it was worth mentioning. I was so excited to meet him after the show and compliment the "smart" glasses he's been sporting all week. And of course I couldn't resist a picture as a memento (that's my husband posing with us).
What were you surprised to learn about WWHL? And what is your favorite part of the show? Tell us in the comments section or tweet us @OKMagazine!