NEWS
Elin Nordegren: Headed for Heartbreak Again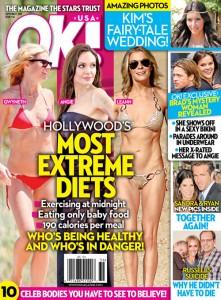 Tiger Woods' ex-wife Elin Nordegren finally has her life back on track after her husband's infidelities ruined their marriage and thrust the mother of two into the public spotlight. But while Elin may have left Orlando and Tiger behind in her move to North Palm Beach, Florida, her friends worry that she's making all the same mistakes again with new boyfriend Jamie Dingman. OK! investigates in this week's new issue!
Article continues below advertisement
OK! NEWS: COVERING TIGER WOODS' TRACKS: DETAILS ON ELIN NORDEGREN'S LOVE INTEREST
Elin met the American investment tycoon at a Red Cross fund-raiser ball last winter and while Jamie's friends describe him as "handsome, a gentleman and low-key," people close to Elin are worried he's as much of a player as Tiger, if not more so.
According to an insider, Jamie "grew up incredibly privileged" and "is a total playboy, exactly the type of guy a lot of people believe she should be staying away from."
"I actually feel sorry for her," another insider adds. "He has houses and girls all over the world."
So what does Elin see in Jamie?
His wealth — but not for the usual reasons.
OK! NEWS: RACHEL UCHITEL PREVIOUSLY DATED ELIN NORDEGREN'S NEW MAN JAMIE DINGMAN?
It's been estimated that in Elin's divorce from Tiger she might have walked away with $100 million or more. Dating wealthy men is a way for Elin to make sure any new boyfriend is seriously interested in her beyond her bank account.
Article continues below advertisement
But just because Jamie isn't using Elin for her millions doesn't mean he isn't using her.
Elin's friends worry that Jamie, like Tiger, will never settle down and remain faithful.
"Jamie has never married or had kids for a good reason," says the first insider.
One of Elin's confidants did come to her defense. "Elin's not jumping into a commitment," the insder explains."She's making him wait until she's sure."
FOR MORE ON ELIN'S WORRISOME ROMANCE PICK UP THE NEW ISSUE OF OK! — ON SALE NOW!