NEWS
Elin Stays Strong for the Kids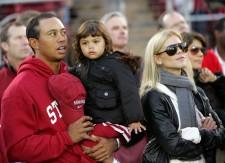 Friends of Elin Nordegren's tell OK! how Tiger Woods' wife is moving forward on her New Year's resolution to start a new life without her husband. If Tiger was hoping to make up with Elin over the holidays after announcing his "indefinite break from professional golf, he is out of luck, according to friends of his angry and humiliated wife.
"She can easily hold her ground with him," a close friend of the Swedish former model tells OK! of Elin's plan to forge a new life in her home country.
Article continues below advertisement
Just after Tiger himself admitted, "It may not be possible to repair the damage I've done," Elin seemed to make a statement of her own: She was photographed with a slight smirk and no wedding ring while pumping gas near her family's Windemere, Fla., home on Dec. 14.
"He started to think he was invincible both on the course and off," a friend says of how Tiger underestimated Elin.
Friends say that the recently purchased $2.3 million island home on the outskirts of Stockholm will provide Elin with the space she needs to piece together a new future for herself and her children.
"She can somewhat get away from the media and the cameras and the horrible gossip and the shame she must feel for being used like that," says the friend. "It solves a myriad of problems."
Elin wouldn't be fleeing her friends either if she went to Sweden. They would still be there for support.
"She has her network in Sweden. Her U.S. friends would still be able to see her," says an American pal, of Elin's decision to keep the kids with her.
"She was betrayed and lied to — I can completely understand why she would take action," adds a friend. "Elin was never afraid to go toe-to-toe with Tiger."
By Eloise Parker & Valerie Nome