NEWS
Elisabeth: Fights with Rosie Almost Made Me Cry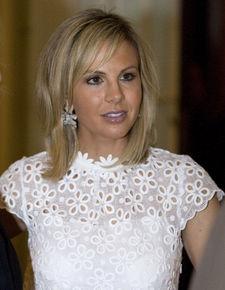 , who fills in the "conservative" seat on the View sofa, is now revealing the stress that the on-air squabbles with former co-host, and political polar opposite, , caused her.
''I'm very lucky that tears didn't come out," the petite blonde, who first came into the spotlight as a contestant on Survivor, tells Pregnancy magazine. "But unfortunately when a woman cries, it's never seen as a sign of strength and never seen in a positive light.''
Article continues below advertisement
Elisabeth and Rosie, an outspoken liberal lesbian, would often come to verbal blows on the set of the hit ABC show over topics ranging from gay rights to gun control. Rosie left the show in May following an infamous on-air shouting match.
''Being a conservative mother isn't the challenge,'' explains Elisabeth, whose husband was just cut from the New York Giants football team. ''Being a conservative in New York City on television is the challenge.''