NEWS
Elisabeth Hasselbeck Confronts Bill Maher on 'The View': 'Thanks for Being the Hero'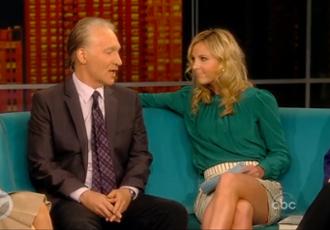 Elisabeth Hasselbeck confronted her guest on The View, comedian Bill Maher, yesterday for a joke he made about her in February on his hit HBO show. And it didn't go over very well!
Bill appeared on The View to promote his new book, but Elisabeth quickly brought up the joke he made about sending her to Egypt to replace CBS News correspondent Lara Logan, who had just returned to the U.S. after being sexually assaulted in Egypt.
Article continues below advertisement
"Forgive this idiotic Republican for bringing this to your brilliant mind," Elisabeth said. "You can't sit here right now and tell me I'm wrong for saying that wasn't that funny."
Bill defended his joke, saying, "I do draw the line, but I also live on the line. I do a different kind of show. I'm on HBO."
"What you have to know is that somebody has to be out on the edge to know where the edge is," Bill added.
"Thanks for being the hero," Elisabeth retorted.
But Elisabeth and Bill didn't end the insults there, even when the other ladies desperately tried to change the topic.
"I actually feel smarter sitting next to you," Elisabeth said sarcastically.
"Really?" Bill asked. "I feel like I'm in high school sitting next to you."
On Wednesday, Elisabeth Tweeted, "Comfronting sic someone who suggest sic (even in jest) that you should be traded and gang raped for another woman IS NOT an ATTACK. #standup #women."