NEWS
Elisabeth Hasselbeck Lied About Erin Andrews Apology?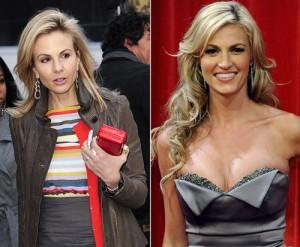 Despite what seemed to be a very sincere apology from Elisabeth Hasselbeck last week on The View, the victim of the host's rude remarks, Erin Andrews, denies that Elisabeth ever tried to contact her. "I didn't speak with her, no," Erin told reporters after the Monday night Dancing With the Stars performance show. Then why did Elisabeth claim she called the ESPN reporter to apologize?
Elisabeth received a lot of criticism last week after she made a comment suggesting that Erin's deranged peeping Tom should have dropped his hidden camera, secret act, because he could see "a little bit less – without the prison time" just by watching her perform on DWTS.
Article continues below advertisement
The View host, who often seems to spark controversy for her bold claims, made a teary-eyed public apology on the talk show to Erin, explaining how she used her mistake as a moral lesson for her 5-year-old daughter, Grace.
"She's so cute; she said to me, 'Mommy, why don't you just call Erin and tell her you're sorry?' So, thankfully, I listened to her — she's a wise little girl — and I did. So, I'm really sorry, and I wanted to offer that publicly too, even though I did follow that advice."
MORE ON:
Elisabeth Hasselbeck
Looks like Elisabeth may have to share a lesson with her daughter about the importance of telling the truth.
Regardless, Erin seems to be recovering from Elisabeth's shocking, uncalled for comment.
"It was really nice to have Maks stick up for me," she told reporters last night. "It was really nice to have the entire cast — and you know what, a lot of the media — we got a ton of support with it."
Do you think Elisabeth really reached out to Erin over the phone?
Check out Erin's teary-eyed (phony?) apology: