NEWS
Elisabeth Hasselbeck Recites Osama Bin Laden Poem She Wrote for Her Children on 'The View'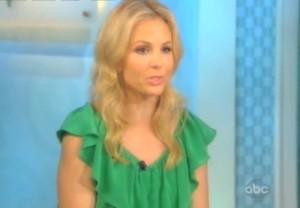 Elisabeth Hasselbeck is always sharing mommy stories on the The View, and this morning she told America how she plans to use poetry to explain the death of terrorist Osama bin Laden to her three young children.
"Thankfully they're too young right now to actually ask the question, so I don't have to answer it to them right now, but I just thought, 'What if they do ask?' " Elisabeth explained this morning on The View of her concern about how to discuss bin Laden's death with her children. "So I wrote this little poem to make me feel better in case they did ask."
Article continues below advertisement
Elisabeth read off the following rhyme:
Osama bin Laden was a very bad guy
He hurt many people, don't ask me why
We shot him in the head and now he is dead
Now close your eyes and go to bed
The audience roared with laughter and even co-host Barbara Walters hugged Elisabeth after she finished reading.
Catch the clip of Elisabeth — who is usually involved in way more heated political debates than light-hearted moments on the show — on Jezebel.
Do you think the rhyme was a good way to explain the terrorist death to her children? Share your thoughts in the comments!