NEWS
Elisabeth Hasselbeck Satisfied With Three Kids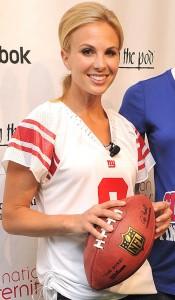 Although Elisabeth Hasselbeck is the spokesperson for A Pea in the Pod and Reebok's NFL Maternity Collection, The View star doesn't intend to make any additions to her family of five that includes hubby Tim, daughter Grace, 5, and sons Taylor, 2, Isaiah, 1.
"I don't," Elisabeth, 33, cackles during the 2010 Belly Bowl held at NYC's Destination Maternity. "I know right now that I have a family that feels full and complete, and as much as it is in our control – because ultimately it isn't – I know that this is where we feel comfortable enough, challenged enough and enough love in that house, so we are at this point a complete picture."
Article continues below advertisement
Still, she fondly recalls telling her tots she was expecting.
"I waited awhile until I was showing because it's hard for a child, preschool age, to grasp something that they necessarily can't see -- outside of faith. I thought 'wow, I'm not going to complicate things even more.' Once I started showing, I said 'Mommy has a baby in her belly, and you're going to be a big brother – you're going to be a big sister.' Even to the point where I don't' even know if I called the baby ours or mine – it was more their little brother. 'You're a big sister, you're a big brother, this is your baby brother, aren't you a big boy.' I made it about them because kids love themselves laughs and they love their things. I tried to go with that."
MORE ON:
Elisabeth Hasselbeck
These days, those tots are growing up fast.
"My kids are into the Metropolitan Museum of Art right now," she says. "I talk to them, take them there. I studied studio art, I love design. It's important that that translate that to them like 'dot dot dot like George Seurat and paint the hay like Claude Monet.' I try to teach them ways to learn the great artists."
She continues, "They're into baseball. They love playing basketball. My daughter just started riding a bike on her own. She's starting kindergarten, so those are two big deals, I think. Taylor, my 2 ¾ year-old son is sprouting into this big brother, little man. He started preschool, so he's liking riding a scooter. Isaiah, who just turned one, turned one, and I think that's his milestone because we had him in a hospital at two weeks old, and thankfully he made it out of there. We are so blessed that his milestone is that he's here and well and an incredible, loving little boy who just started walking."
Here's my pic with Elisabeth: