NEWS
Elisabeth Hasselbeck Sneaks Chocolate Treats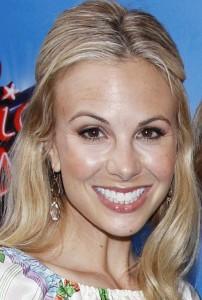 Staying trim is a priority for The View's Elisabeth Hasselbeck, who has devised a plan to stop her snack attacks from going too far.
While the married mom of three, 33, starts her evening healthy, it always devolves into the junk department.
"I start off really well with a bowl of grapes and then somehow some chocolate sneaks in there at night," she tells me. "I have gluten-free chocolate chips in a blue wrapper – I think they're called Cuties. I've been eating little handfuls of those at night. My husband gets me – they make noise when I go in the bag, like 'do you have to be noisy bag?' Can't chocolate have a quiet wrapper?"
Article continues below advertisement
Still, she doesn't go overboard.
"Well, I try to move the bag of chocolate chips somewhere high, so that I actually have to use some effort to actually get them a) to maybe pose some sort of an obstacle that would detract me and b) if I do decide to get the chair, move the chair, climb up and grab it, at least I burn some calories in the process."
Her other sugar fix? Pinkberry yogurt.
"I love the temperature," she says. "I love the fact that it's cold, I love pomegranate, I love chocolate and I love the fact that it's a frozen dessert that actually has some powerful working cultures in there."
MORE ON:
Red Carpet Confidential
Despite her love of sweets, the biggest diet challenge Elisabeth has faced is discovering she has celiac disease.
"It took me a decade to find out I had celiac disease, and it should not have taken that long. Ironically, not getting a diagnosis eventually costs people their lives. The mortality rate is raised significantly if you don't get diagnosed, and it also ends up costing the system more money because you end up with intestinal cancer or thyroid dysfunction, infertility … all things that cost a ton of money."
Article continues below advertisement
She adds, "I am spreading the word about getting tested for celiac disease. One out of 133 people have it, and only 1% know it. Celiac disease is a gateway disease to others, so any sort of autoimmune disease right now needs research, funding and also diagnoses to go up."
Thanks to her book, The G-Free Diet: A Gluten-Free Survival Guide, Elisabeth is making a difference.
Here's my pic with Elisabeth:
Pick up the OK! on newsstands now for Elisabeth's What I Ate Today feature. The cover line is Katie Holmes/"Yes, I'm Pregnant."