NEWS
Eliza Dushku Apologizes to Vienna Girardi Over Jealous Tweet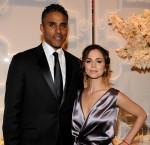 Eliza Dushku has apologized to Vienna Girardi after accusing her of checking out her boyfriend, Rick Fox, at Dancing With the Stars on Monday night.
On Monday, Eliza Tweeted a screen grab of her TV set showing The Bachelor winner, Vienna, glance over to the former NBA player who was giving a standing ovation during the taping of DWTS.
OK! NEWS: JAKE & VIENNA: WE'RE NOT MARRIED
Vienna was sitting next to her adoring fiancé, Jake Pavelka, but in the caption to the photo, the jealous Dollhouse actress wrote: "Vienna, I will CUT you. Keep yo' eyes on yo' own meat!"
Article continues below advertisement
But last night Eliza expressed remorse for her bizarre outburst, posting on her Twitter page: "Haha, don't hate her at all, was totally messin' n playin' around. We gots love for Jake & Vienna! We're Bachelor junkies."
OK! NEWS: ELIZA DUSHKU DROPS POUNDS WITH A PAL
She followed up with a final note about the reality couple. "I heart the Pavelka's. Will fresh CUT some flowers for Vienna in the a.m. & apologize if I hurt feelings! xx"
');
}
document.cookie="access_type=1; path=/; expires=Mon, 01-Jan-2012 00:00:00 GMT";
return;
}
go();//-->