NEWS
Elizabeth Banks: "That Was Not My Husband" at the MTV Movie Awards!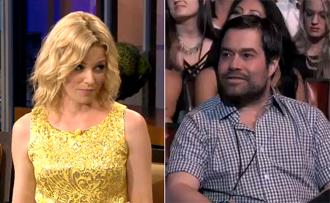 Elizabeth Banks may have taken home a golden popcorn at the 2012 MTV Movie Awards, but that's not all she walked away with that night. The Hunger Games star also got escorted off the stage by the hot guys of Magic Mike... and her husband wasn't too happy about it!
On The Tonight Show with Jay Leno last night, Elizabeth discussed her crowning moment and revealed that the man MTV panned to after she thanked her husband Max Handelman was NOT her husband!
Article continues below advertisement
OK! GALLERY: ELIZABETH BANKS, EMMA STONE & JOSH HUTCHERSON WIN BIG AT THE 2012 MTV MOVIE AWARDS
"I won Best On-Screen Transformation at the MTV Movie Awards and didn't get to thank the fans who voted for me. Instead I got to thank Channing Tatum, his abs, Joe Manganiello, his abs, and Matthew McConaughey and his badonkadonkadingdonk because they gave me the award and they're promoting this crazy movie called Magic Mike," Elizabeth explained of her memorable moment on stage, adding, "They were, shall we say, ready to play when I got up there."
But someone who was not so "ready to play" after the awards show was Elizabeth's hubby Max, who was totally snubbed by MTV's cameramen! When Elizabeth thanked Max when accepting her golden popcorn, the camera focused in on Elizabeth's agent Billy instead of Max!
"That is not my husband! That's my agent!" Elizabeth laughed when Jay Leno showed a replay of her acceptance speech. "My husband was in the other chair!"
Article continues below advertisement
OK! NEWS: ELIZABETH BANKS & HER HUSBAND WELCOME A SON VIA SURROGACY
"I got all these text messages after that speech because they panned to my agent, who lives with a man... who's lovely and has a great boyfriend... not my husband!" Elizabeth added, giggling.
"Even my mom was like 'Congratulations sweetie and Billy looked hot, H-O-T,'" the actress continued. "The only person who was really upset about it was my husband's mom because, of course, she wants to see him on TV every once and a while, she's sick of seeing me! And finally he has his moment, I thank him in this big speech and it pans to someone not him."
Check out Elizabeth's acceptance speech and interview below!