NEWS
Elizabeth Hurley Would "Marry" Blake Lively: "If I Had a Sex Change"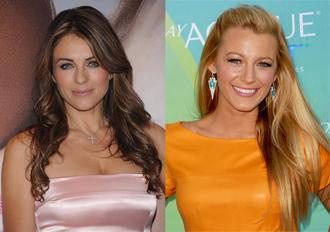 Elizabeth Hurley has developed a crush on the set of Gossip Girl and it's not to one of the show's handsome men!
OK! chatted with Elizabeth at the Ready, Set, Pink! event at Bloomingdale's today about the sexy character she plays on Gossip Girl.
"She's such fun to play. I kind of feel appalling when I do some of the scenes with the actors because my character is so nasty. Charming to others but really nasty to a few," Elizabeth explained to OK!. "So I say, "Oh, I'm sorry." It's fun. The writers have given me a really good part. Her morals are questionable, which I'm attracted to those people obviously. It's a lot of fun to do."
Article continues below advertisement
So has Elizabeth bonded with any members of the cast like Blake Lively perhaps?
"I love them all. I've been enchanted. She's the most enchanting girl," the actress said of Blake. "She's couldn't be more charming. Couldn't be more beautiful, incredibly talented and just adorable."
And Elizabeth also thinks Blake is a very good catch!
"I would marry her in a heartbeat if I had a sex change," she said. "She's absolutely perfect in every way."
Sounds like Ryan Reynolds has some competition!
Reporting By Lorraine Chow