NEWS
Elizabeth Smart's Abduction Case Trial Delayed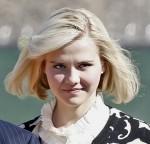 While Elizabeth Smart was in attendance on Thursday for the trial of her alleged kidnapper, the U.S. District Court Judge Dale Kimball had to delay the proceedings.
OK! POLL: DID ELIZBETH SMART'S FATHER PUT HER AT RISK?
According to NPR, federal defense attorneys representing Elizabeth's alleged kidnapper, Brian David Mitchell, were granted their request to have the trial delayed.
The defense team appealed the judge's rejection to their motion to move the trial outside of Utah. They believed a fair jury would be impossible to find given the publicity of the case.
Article continues below advertisement
Brian is accused of abducting Elizabeth in 2002 from her Salt Lake City bedroom and holding her captive for nine months.
Mitchell's defense team had appealed Kimball's rejection of their motion to move the trial outside of Utah. The defense argues that extensive publicity about the case has been so prejudicial that seating a fair jury is impossible.
It was decided by the Appeals Court to make a decision to the issue after jury selection, which was finished Thursday morning.
OK! REAL LIFE : JONBENET RAMSEY — WHAT THE POLICE KNOW
The judge called the attorneys to the bench today saying "I'm, of course, very unhappy about this," and then sent them home.
Elizabeth, 22, was sitting in the courtroom with her family after just having returned from a Mormon mission in France. Elizabeth was expected to testify next week, but her mother, Lois, and younger sister, Mary Katherine, were expected to testify today.
It is not known how long to trial delay will last or how much time the Appeals Court will need to review the issue.