NEWS
Elizabeth Taylor's Funeral Likely to Be in L.A.; Westboro Baptist Church to Protest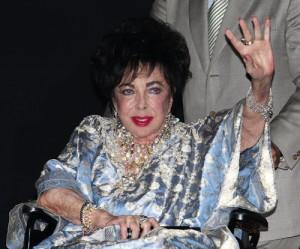 Members of Westboro Baptist Church are aggressively attacking the memory of Elizabeth Taylor, who died yesterday at the age of 79, and have already revealed plans to picket the Hollywood icon's funeral. Along with her Oscar-winning work on screen, Elizabeth was a  renowned AIDS activist and proponent of the LBGT community, both of which the Kansas-based congregation vehemently disparages.
Margie Phelps, the legal adviser and spokesperson for Westboro, filled her Twitter feed with hateful comments revealing that the congregation plans to picket Liz's forthcoming funeral.
Article continues below advertisement
"No RIP Elizabeth Taylor who spent her life in adultery and enabling proud fags. They cuss her in hell today. #Westboro will picket funeral!" one Tweet read, followed by, "Hello rebels! RIP Elizabeth Taylor is in hell as sure as you're reading this & getting mad as a wet hen. She should've obeyed God. Too late!"
She also defamed the honor of the Liz's dear friend the late Michael Jackson and Heath Ledger.
"Michael Jackson and Heath Ledger in hell. #WBC 2 picket funeral" another Tweet read.
Liz was known for her AIDS advocacy as one of the first celebrities to take a stance during the height of the epidemic in the 1980s. She also founded the Elizabeth Taylor AIDS Foundation in 1985, which has raised over $100 million over 25 years, according to the Huffington Post.
OK! VIDEO: WATCH ELIZABETH TAYLOR'S BUTTERFIELD 8 ACCEPTANCE SPEECH
Westboro recently won a Supreme Court case, which ruled that their type of seditious and rabble-rousing protest was protected by the First Amendment.
The congregation has also taken their inflammatory protests to the funerals of other public figures such as Elizabeth Edwards, Heath Ledger and Natasha Richardson.
TMZ reports Liz's funeral will likely take place in L.A.