NEWS
Ellen the Blushing Bride!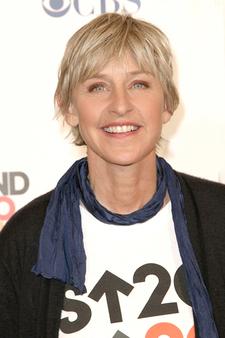 While many little girls may dream of their wedding days, imagining their dresses and the flowers they'll have, Ellen DeGeneres says she wasn't one of those wishful young women, until she met her wife, Portia de Rossi. The talk show host, who is a new spokeswoman for CoverGirl, admits that she felt her most beautiful on her wedding day.
"It's just very emotional," she reveals in the March issue of Ladies Home Journal of her union with Portia. "You find the person you love, you think you've come this far… and anyway, I never thought I'd have a wedding, and I did, and it meant more than I imagined."
Article continues below advertisement
And although she's one of the faces of a makeup company, Ellen isn't focused on her looks.
"To me it's sad to be defined by beauty, because it's something that goes away and changes," she says. If you're trying to chase that forever, you're in trouble." However, she adds, "As I've aged and matured, I just feel better about myself, more confident and more comfortable in my own skin. As that's happened, I think I look better than I've ever looked, because that's just what happens when you feel better about yourself."