NEWS
Ellen DeGeneres Bids Farewell to 'American Idol'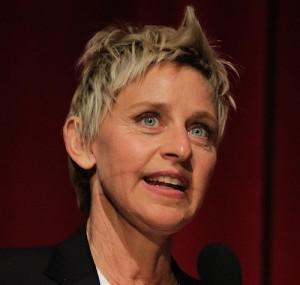 Looks like Season 10 of American Idol is off to a rough start. After just one season in the judge's chair, Ellen DeGeneres has announced she is departing from the hit FOX reality show, leaving the state of the judging panel in complete limbo.
"A couple months ago, I let FOX and the American Idol producers know that this didn't feel like the right fit for me," Ellen said in a statement. "I told them I wouldn't leave them in a bind and that I would hold off on doing anything until they were able to figure out where they wanted to take the panel next. It was a difficult decision to make, but my work schedule became more than I bargained for. I also realized this season that while I love discovering, supporting and nurturing young talent, it was hard for me to judge people and sometimes hurt their feelings. I loved the experience working on Idol and I am very grateful for the year I had. I am a huge fan of the show and will continue to be."
Article continues below advertisement
The beloved comedian served as a judge during Season 9 of Idol, when Lee DeWyze was crowned winner. She also serves as host to her hit syndicated talk show Ellen, and announced earlier this year that she renewed her contract with NBC until 2014.
Now there remains two judges' seats vacant, as Simon Cowell — part of the brainchild behind Idol — also announced his departure from the show in the beginning of the year.
At this point, Randy Jackson and Kara DioGuardi are still holding down their positions as judges, but it seems like nothing is definite.
"We love Ellen and understand and support her decision to bow out of Idol," Peter Rice, Chairman of Entertainment, Fox Networks Group, said in a statement to the press. "We were fortunate to receive the humor, energy and love for talent that she brought to the show."
Article continues below advertisement
"It was a joy to work with Ellen," added Mike Darnell, President of Alternative Entertainment, Fox Broadcasting Company. "She brought an incredible spirit to IDOL and was a great new addition to the team. While we're saddened by her decision, we are very appreciative that she gave us ample notice so that we could work through it together."
Idol creator and executive producer Simon Fuller shared similar sentiments about Ellen — who has renewed her hit daytime talk show until 2014.
"I loved Ellen's passion for the artists and her nurturing skills," Fuller said. "She brought honesty and optimism to our judging panel and I will miss her greatly."
Article continues below advertisement
There have been rumors that now Paula Abdul will make a grand re-entrance and take back her spot on the judges panel.
Other stars linked to filling Simon's judging seat include crooners Chris Isaak, Harry Connick Jr., rocker Bret Michaels and even Donald Trump, who has reportedly lobbied to replace Simon despite his association with NBC as producer and judge of The Apprentice.
Sean "P. Diddy" Combs has even been doing some campaigning of his own for the highly-coveted judge's position!
And most recently, Aerosmith frontman Steven Tyler and Jennifer Lopez have been tied to the judging panel, according to Gossip Cop.
As auditions for the Season 10 are underway, contestants better hope the vacant judges' chairs are filled soon.
Maybe America will see a reunion between Diddy and former flame J. Lo?