NEWS
Ellen DeGeneres Does Her Best to Get Taylor Swift to Talk Jake & John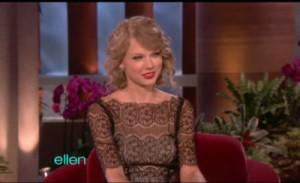 The ever demure Taylor Swift is a tough one to crack when it comes to talking about her love life. But who better to get the chart-topping singer to spill then Ellen DeGeneres. The talk show host was relentless in her pursuit to get some dirt on Taylor's hectic dating life!
The country queen has no problem putting herself out there in her lyrics, always leaving the public speculating on her love life.
Article continues below advertisement
Most recently, Taylor's new ditty "Dear John" is thought to be linked to John Mayer, but the starlet is remaining tight-lipped.
"There is a new song that people are speculating that it was about John Mayer because it's 'Dear John,' " Ellen says. "It could just be a 'Dear John' song?"
"It could be," Taylor says. "That song kind of is what it is."
Taylor's lack of denial was proof enough for Ellen.
"Okay, great, we know the answer now. It's about him. Well, you didn't dispute it, so, obviously."
Taylor has no problem if her fans speculate: "I guess people are going to continue to speculate about it and I'm going to continue to never tell them who the song is about."
Taylor also isn't denying anything. Earlier this week she was seen out and about with the hunky Jake Gyllenhaal, 29, and Taylor, 20, remained especially coy when Ellen brought up the actor's name.
Article continues below advertisement
OK! NEWS: TAYLOR SWIFT ON EXES IN SONGS — THEY'VE HAD FAIR WARNING
"Now, Taylor, if you were to write a song right now about love. How would that go?... Are you optimistic about love? How do you feel about love right now?" Ellen asks the star in an interviewing airing Monday.
"I'm always optimistic about love… Well, why wouldn't anyone be?" Taylor replies.
"Especially if your boyfriend is Jake Gyllenhaal, because he is very handsome. Y'all are just hanging out though, right?" Ellen continues to press, posting a picture of the duo walking around Brooklyn.
"But it's just y'all hanging out, this does not prove anything. I'm just saying he's adorable and I like him very much, and so if that is the case that he's your boyfriend, I think that's fantastic. Wouldn't he be nervous if anything goes wrong, there is another song…"
Maybe he could look to John for some guidance!
Because while Ellen let Taylor off easy when it came to the current state of her love life, she wasn't quite so lenient when it came to figuring out if Taylor's relationship with John ever took a turn away from the platonic.
Catch the clip below, and don't forget to watch Taylor on Ellen this Monday!