NEWS
Ellen DeGeneres Scares the Pee Out of Julia Roberts... TWICE!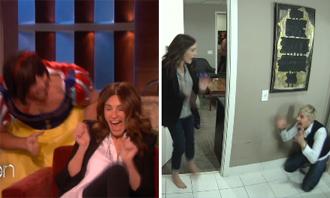 We all know Ellen DeGeneres gets a kick out of scaring her guests on The Ellen Show. But in an episode airing today, Ellen not only scares Julia Roberts backstage, but gets her again in front of the studio audience... and it's hilarious!
Just like she did with Taylor Swift, Ellen hid in the guest suite's private bathroom before Julia arrived for the taping. As the Mirror Mirror star walks in to use the toilet, Ellen pops out and literally scares the pee out of Julia! And Ellen got it all on film.
Article continues below advertisement
OK! GALLERY: JULIA ROBERTS & LILY COLLINS STEP OUT FOR MIRROR MIRROR PREMIERE IN L.A.
"I changed because I peed my pants!" an hysterical Julia tells Ellen and the crowd after watching the incident unfold on screen. "I was just about to undo my buttons because you go into the bathroom 'cause you gotta pee! I screamed like I was being mugged on a subway."
And then, later on in her interview, Ellen has one of her male employees dress up as Snow White (get it?) and creep up on her while she's talking. And believe it or not, this scare is better than the one in the bathroom!
"Thank God I'm a jogger," Julia confessed. "I would have had a heart attack!"
But surprisingly, Julia's not a newbie when it comes to scaring people. She admits that she terrifies her kids every chance she gets!
OK! NEWS: MIRROR MIRROR STAR JULIA ROBERTS THINKS HER EVEIL QUEEN CHARACTER IS A "LUNATIC"
"If I hear them coming and they don't know where I am in the house, I crouch down in their private space and they come in and I jump at them," she explains, laughing. "And really, little people can just catch air! They just vault! It's so wrong, it's like child abuse... I was getting to much joy from it, so I have to tone it down." Watch a video of one of Ellen's scares below!