NEWS
Ellen DeGeneres Shares Some Hilarious Acceptance Speech Tips With Academy Award Nominees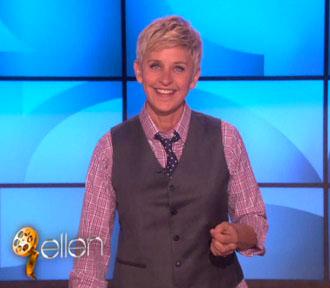 Ellen DeGeneres is good pals with a lot of the actors and actresses who are up for Academy Awards on Sunday night. So the talk show host decided she would make their lives a little easier when it comes to acceptance speech time!
"I thought I could offer some tips to help the nominees make a good speech in case they end up winning," Ellen says in her opening monologue today on The Ellen DeGeneres Show. "I'm calling it, 'Ellen's Tips to Help the Nominees Make a Good Speech In Case They End Up Winning.'"
Article continues below advertisement
Tip 2: "Don't acted surprise when you win. You were nominated. There were only five people in the category. That's like a one and three chance of winning, I think. So just be honest. Get up there and say, 'Thank God I didn't lose, I wonder what that would feel like!'"
Tip 3: "A lot of people start out by saying I don't have time to thank everyone. You're using up time by saying you don't have time. So stop saying that."