NEWS
Ellen DeGeneres Thanks Bill O'Reilly for Defending Her Against JCPenney Boycott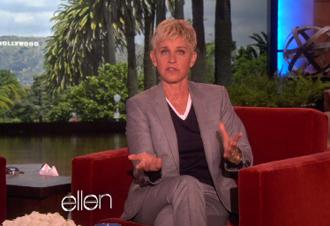 Fox News anchor Bill O'Reilly surprisingly defended Ellen DeGeneres on The O'Reilly Factor last night against the One Million Moms that are boycotting Ellen as a spokeswoman for JCPenney.
Bill was discussing the controversy with guest Sandy Rios, who took the side of the One Million Moms and their anti-gay stance.
OK! NEWS: PROP 8 RULED UNCONSTITUTIONAL — CELEBRITIES REJOICE ON TWITTER
"JCPenney has hired Ellen DeGeneres as a spokesperson. They are demanding the company fire her. Now, we tried to get one of the One Million Moms to come on The Factor tonight, but we could not. Apparently, all the Million Moms are busy," Bill explained on his show. "So there she is, earning a salary to represent the department store chain. And then the Million Moms say, 'Hey, because we feel a certain way about Ms. DeGeneres' lifestyle, you need to fire her.' I don't think that's the spirit of America, Sandy, I've got to tell you."
Article continues below advertisement
"Bill, spokespeople stand for something," Sandy argued. "People are chosen because they stand for certain things. They represent companies. It matters very much what they stand for."
"Wait, wait, wait, wait, Sandy," Bill fired back. "What is the difference between a McCarthy-era communist blacklist in the '50s and the Million Moms saying, 'Hey, JCPenney and all you other stores, don't you hire any gay people. Don't you dare.' What is the difference?"
"This JCPenney thing is a witch hunt, and it shouldn't happen," he added.
OK! NEWS: PINK'S DAUGHTER, WILLOW SAGE, WISHES ELLEN DEGENERES A HAPPY BIRTHDAY
Well, Ellen heard Bill defending her and thanked him on The Ellen DeGeneres Show.
"There's somebody else who actually defended me that I'd like to mention: Bill O'Reilly from Fox News," Ellen said before showing a clip from Bill's show. "Thank you, Bill. And you didn't really make it clear if you were going to shop at JCPenney or not, but if you do, you can use my employee discount any time you want. That's for you, Bill. Thank you so much."
What do you think of the JCPenney controversy? Do you agree with Bill?