NEWS
Ellen to Fill Paula's Idol Chair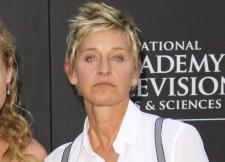 Fox has just confirmed that Ellen DeGeneres is the latest celebrity signed on to fill the fourth chair at the American Idol judges table, left vacant by the departure of Paula Abdul this summer.
The Emmy-winning comedian will join Randy Jackson Simon Cowell and Kara DioGuardi after the audition phase is over, and Ellen is over the moon about getting a chance to be a part of the hit show.
"I'm thrilled to be the new judge on American Idol," Ellen said following the announcement. "I've watched since the beginning, and I've always been a huge fan. So getting this job is a dream come true, and think of all the money I'll save from not having to text in my vote."
Article continues below advertisement
Ellen is only one on a huge list of stars that will be making guest appearances this season. Victoria Beckham, Mary J. Blige, Kristin Chenoweth, Joe Jonas, Neil Patrick Harris, Avril Lavigne, Katy Perry and Shania Twain have all previously been confirmed to appear.