NEWS
Ellen Helps Jen Get a Head Start on the Big 4-0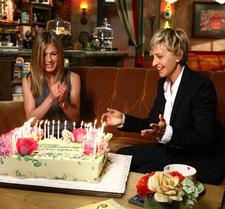 Happy early birthday to Jennifer Aniston!
The actress, who turns 40 on Feb. 11, has reached a milestone in both her career and her life. Having made the transition from TV to film—with a hot young rock star on her arm to boot—the former Friends star has come a long way from her days waitressing at the Central Perk.
On Friday's episode of The Ellen DeGeneres Show, the almost-birthday girl stops by to talk about embarking on her fourth decade, telling the talk show host she's not afraid of getting older--as long as she has access to hair dye.
Article continues below advertisement
"I have to say, really, I feel better than I've ever felt in my life," Aniston tells Ellen DeGeneres. "I did have a moment though over the weekend... my first like huh... I don't want to turn 40. I found a really long gray hair and it kind of flipped me out. It's not my first but it's the fact that it was so long. It actually brought me to tears slightly."
To celebrate the big day, Aniston reveals she plans to throw a party on Saturday, telling Ellen that best pal Courteney Cox will be among the guests.
The talk show host tries to get the actress to dish on her current flame, John Mayer, holding up a picture of the rocker in his infamous green one-piece bathing suit, saying, "He'll probably go, right? Do you think he'll wear this?"
"I got to tell you honestly I almost don't want to touch it," Aniston laughs, adding, "The man's got balls, what can I say. I think he's funny."
In honor of her birthday, DeGeneres and Aniston visit the set of Jen's one-time fictional employer, Central Perk, where she's presented with a surprise — a gorgeous red velvet birthday cake.
When asked if she might ever consider a Friends reunion, the actress says, "Maybe. I just think, what would they do? Would you be in an episode?"
"Yes," replies Ellen.
"Maybe then one episode," Aniston jokes.
To see the entire interview, check out The Ellen DeGeneres Show on Friday!