NEWS
Ellen Joins Oprah on the Cover of 'O' Magazine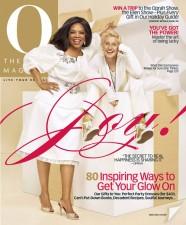 For two influential daytime ladies in one place, look no farther than the December cover of O, which features its namesake, Oprah Winfrey, along with dancing talk show host and funnywoman, Ellen DeGeneres.
Oprah revealed two versions of the cover on her show — one for newsstand buyers and another for subscribers. The issue hits stands Nov. 12, and is themed around the command to "Get Your Glow On!"
Article continues below advertisement
"When Ellen arrived at the photo shoot for our cover, I didn't have to ask her how she was doing — it showed on her face," says Oprah. "She radiated the kind of peace and satisfaction that comes only when you're living at your highest potential."
Ellen will also stop by The Oprah Winfrey Show on Nov. 9 to talk about life, love and her new job as a judge on American Idol.