NEWS
Ellen & Portia Get Puppy Love from Humane Society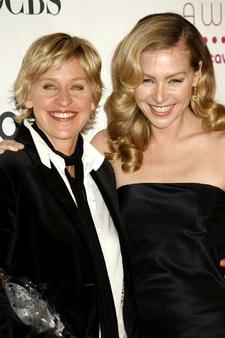 We all know the entertaining work Ellen DeGeneres and wife Portia de Rossi do onscreen, one as a warm and funny talk show host, the other as a hilarious comedian on shows like Arrested Development and Nip/Tuck. Now, this loving couple are also being honored for their work to help animals.
The Humane Society is honoring both Ellen and Portia at the 23rd Genesis Awards, by giving them The Wyler Award for the news they've made on behalf of animals, promoting humane treatment, whether they're pets or raised for food.
Article continues below advertisement
"Ellen and Portia stand up for their beliefs, and they have had a major impact in spreading the message about animal protection," said Wayne Pacelle, president and CEO of The Humane Society of the United States.
"As executive producer of the annual Genesis Awards, I am delighted that we are able to recognize Ellen and Portia at an event where their efforts and compassion will be enthusiastically applauded," said Beverly Kaskey, senior director of The Humane Society of the United States' Hollywood office.
Past honorees include Sir Paul McCartney and Hayden Panettiere.