NEWS
Ellen Talks Breast Cancer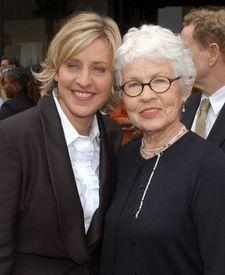 Ellen DeGeneres has a lot to be happy about.  She has a hit talk show and is newly married to the beautiful Portia de Rossi.
But life wasn't always happy-go-lucky for the comedienne. When Ellen was 16, her mother, Betty, was diagnosed with breast cancer. 
"It was a bad time," Ellen, now 50, tells OK!. "She went in because she had a lump, and she woke up and her breast was gone.  Now it may have been handled differently.  She's doing fine 30 years later, but she had a mastectomy.  It's devastating to see your mom go through something like this."
Article continues below advertisement
Ellen says her mother's fight inspired her to live a healthier life. She and Portia are both vegans and Ellen is integrating Breast Cancer Awareness Month into her daily talk show.
"I think anything is possible," she tells OK!. "I believe in faith, and I think we have to find a cure and a cause.  We need to start looking at what's in our food and our environment."
She continues, "I have this amazing opportunity to reach a lot of people and shine a light on certain things that need attention."
Ellen's cause is backed by her legal other half, Portia de Rossi. Of being a newlywed, Ellen says, "Marriage is the greatest.  I had no idea it would feel so different.  You can have a commitment and say, 'This is it', but there's just something about being married...I just feel like I'm home.  I'm so happy and more in love.  It's great."
For more on OK!'s interview with Ellen, pick up the new issue of OK! — on newsstands everywhere now!