NEWS
Elton: "Britney Needs to Help Herself"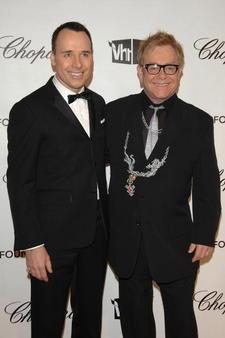 The most-coveted ticket on Oscar night wasn't for a seat at the annual ceremony, but a short while away at 16th Annual fundraiser for his AIDS Foundation. And while stars from to to to lined up to get in, the one celeb in Hollywood who never fails to make headlines — — was nowhere to be seen.
"I really feel for her," Elton told OK! about the troubled pop star during the gala bash. "She doesn't deserve this."
Article continues below advertisement
And even though Brit appears to be doing better since falling under the watchful eye of her father , Elton believes that "the only person that can help Britney is herself... As much as she's going through, it's horrible and I hope she comes through it. If I could do anything, I would."
Elton was, however, able to do quite a lot for some people on Sunday night, when his Oscar-night celebration raised millions of dollars for AIDS research and relief. And the music legend is grateful the recent, drawn-out writers' strike ended in time for the Oscars to go forward. "We're very, very happy about the end of the strike," he explained to OK!. "Otherwise we would have been in real trouble."