NEWS
Elton John, Osbournes fight AIDS with benefit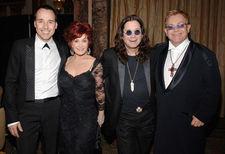 Elton John brings out his pals Sharon and Ozzy Osbourne, Petra Nemcova, k.d. lang, Susan Lucci, Anderson Cooper and Deborah Cox for the Sixth Annual Elton John AIDS Foundation Benefit held at NYC's Waldorf-Astoria Hotel.
There's extra-tight security because a certain world leader is staying on premises! After everyone is scanned and wanded, we head into a glitzy ballroom where Elton reveals he's a total procrastinator. "I haven't made up my mind what I'm doing yet," he says of his song choices for the evening. Why does he still wear glasses? "I've already had replacement surgery. I feel like glasses are part of me now."
Article continues below advertisement
Sharon and Ozzy squabble about being honored for their charity work through the foundation.
"I'm overwhelmed because we don't consciously do anything," Sharon admits. "I don't feel that I deserve it – or Ozzy doesn't."
Ozzy feels differently. "See? Everywhere I go she speaks for me," he says. "I deserve this. Sharon and I have been involved for two years now. Because it's not on the news every evening, people think AIDS doesn't exist anymore. But it does!"
Sharon adds, "You just keep saying 'I'm not worthy.' We're just two little grains of sand in this big picture."
Petra Nemcova dishes that she has a "new boy," but won't say more other than to reveal he's "international." She describes Elton's home as "classy, arty, English, glamorous and luxurious." "I didn't see all the parts of the house, so you never know what's hiding in the closet," she says. How does she keep her hot bod? "Stress," she tells me. "It's the best way to lose weight."
MORE ON:
Red Carpet Confidential
Article continues below advertisement
k.d. lang jokes to me that she can't wait to be done and enjoy a cocktail. She calls performing with Elton "a huge life mark."
Anderson Cooper is flattered when a reporter says his biceps are bulging, and credits weightlifting, running and his trainer, T.J., for the remarkable results. What causes him to ditch the diet? "I've been drinking a lot of Jamba Juice, which I now realize is a junk food because it's full of sugar," he tells me. "My favorite flavor alternates. I become sick of them after awhile and move on. Right now it's Peanut Butter Moo."
Deborah Cox says Elton told her she was a great Aida, and admits Twizzlers set her back on her diet. "I love red Twizzlers," she tells me. "There's something very satisfying about chewing a Twizzler. Twizzlers are my absolute favorite candy in the world. You can gnaw on it, like a dog gnaws on raw hide."
Susan Lucci brings hubby Helmut Huber for arm candy. How does she stay looking fab at the age of 60? "We just came back from Capri and Sardinia and so it's easy at the moment to be feeling wonderful. I work out, and do all the boring things that help you feel good and look good."
Ooh, there's Sharon and Ozzy again. "Come on, I'm starved," Sharon tells her hubby.
Let's eat!