NEWS
Emily Blunt is "So Happy" with John Krasinski: "Our Marriage is an Effing Blast"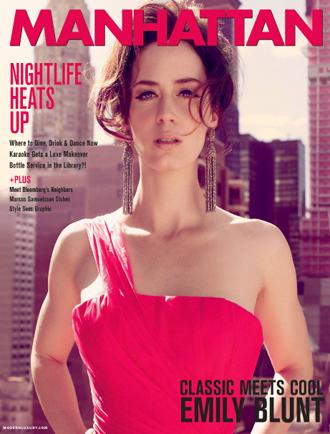 Article continues below advertisement
"This is what I find difficult about talking about my marriage: It's hard to sum up something that's so vital and means everything to you in a sound bite. Do you know what I mean?" Emily explains to the magazine. "All I can say is that it's an effing blast. It's just great, and I'm so happy."
Emily reveals she and John try to live as normal a life as possible, hanging out with their neighbor and good friend Jimmy Kimmel, who they're "really lucky" to have around — especially for his pizza-making skills.
So are Emily and John expecting to have some kids running around too?
"We want to have children; I just don't know when yet," Emily reveals. "I'm just not sure about the timing of all of that. We're both from big families so I think it's something we want."
OK! NEWS: EMILY BLUNT GIVES RELATIONSHIP ADVICE: "EMPOWER THE OTHER ONE"
For now, Emily is enjoying being a wife and spending a lot of time in the kitchen, perfecting her cooking craft! She admits that if she wasn't an actress, she'd definitely try and be a chef.
"Yeah, I'd really like to do it," the British beauty proclaims, confessing that Mario Batali and Ina Garten are her Food Network favorites. "I love to cook. It really is the most peaceful, happy experience for me."