NEWS
Emily Maynard Says She "Will Always Love" Brad Womack But Confirms It's Over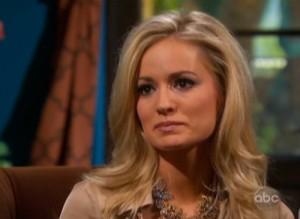 Emily Maynard went on national TV last night to open up to Chris Harrison about the status of her relationship with former fiancé Brad Womack. It may have been one of the most romantic, fairy tale endings in the history of The Bachelor, but Emily confirmed last night that she and Brad are over.
"I thought we would be planning a wedding last time I saw you," Emily told Chris, reminiscing about her past times at the Bachelor mansion. "Getting out of the car brought back a lot of memories."
Article continues below advertisement
And then Chris asked her flat out about her status with Brad.
"We're not engaged anymore," she revealed in a shaky voice, trying her best not to break down and cry.
Emily does want everyone to know that she respects Brad.
"I'll always be in love with Brad, no one will hear me say a bad word about him nor will I tolerate anybody else saying anything bad about him," she shared. "He's always going to be a huge part of my life."
And not only did she not bash her ex, she continued to praise him.
"He's such a gentleman, beyond his good looks, and he's very good at expressing how he feels and making everyone around him feel good."
So what went wrong?
"For so long I think that we left the dot dot dot, and I feel bad it took us so long to let people know," she said. "Not a day will go by when I don't regret how things ended with us."
Article continues below advertisement
She went on to say that the day Brad proposed to her was one of the "happiest days" she remembers.
She planned to get herself and her six-year-old daughter Ricki an apartment in Austin, Texas for the summer, but things just began to crumble.
"I didn't doubt that we loved each other. I just doubted that he was still going to want to be with me," she explained. "We are both use to being single, and I think that's a hard adjustment. As a single mom I don't have the luxury of saying, 'We will figure it out when I get there' and I didn't have that reassurance from Brad.
She continued, "I wish we could have done something different, and I promise that no one is more disappointed than I am."
Emily doesn't want Bachelor fans to feel lied to.
"I wish i didn't have to sit here," she said. "I thought it would go away by now. Everyone deserves to know what happened."
Emily also also said that since she was open and honest, she hopes that the paparazzi would leave her alone.
Article continues below advertisement
"It's hard to explain to a five-year-old," she said of her daughter asking about the cameras that stalk them when the are out."She thinks I'm the least cool person ever. I told her everyone thought I was Taylor Swift, and she didn't believe me."
She said she "texts a lot" with Brad, but "right now I want to focus on being a mom, all this attention brings out the worst in people."
"You don't know who to turn to so you end up staying by yourself and that makes you more sad."
Catch a clip of Chris' interview with Emily below, via TV Squad.