NEWS
Eminem Got Rehab Help From Elton John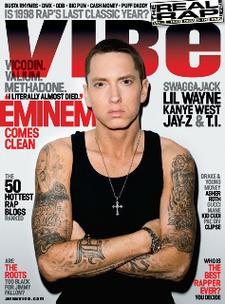 When it came time for wisecracking tough-guy rapper Eminem to kick his addictions to the curb, he looked to an unlikely source for help — music legend Elton John.
"I came home from the hospital the second time and I realized that I was giving up drugs forever," Eminem reveals in the June/July issue of Vibe. "I reached out to Elton 'cause I knew he had a problem before."
Em says that he and Elton had kept in touch since performing together at the Grammys years earlier. "I knew he was in recovery and I just wanted to reach out to somebody who was on the same level as far as fame," he explains. "He was really supportive, and still is to this day."
Article continues below advertisement
According to Eminem, the Philadelphia Freedom singer advised him to not leap back into stressful performing situations that might cause the rapper to relapse. "There was a Nelson Mandela thing that I was rumored to go to and I had just got out of the hospital. He was like, 'Don't do it. Do not do it,'" he recalls. "But I didn't want to disappoint anybody. He talked me out of doing it. He was like, 'I'm telling you you're gonna get over there and you're gonna wanna use. Don't do it, it's too early. You don't even have enough clean time under your belt.'"
And Elton wasn't just there to advise on the big things; he took an active interest in Em's sobriety. "He called a lot. A few times a week," says Eminem. "Checked in to see how I was doing and shit. He knew how hard it was in the beginning for him to quit."
For the entire interview, pick up the June/July issue of Vibe with Eminem on the cover.