NEWS
Emma Roberts & Justin Bieber Remember Alex Brown on 'Extreme Home Makeover'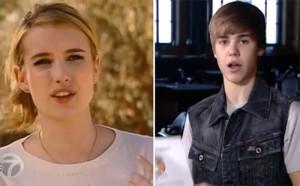 While you may have been sad that Emma Roberts and Justin Bieber didn't hit the red carpet last night at the SAG awards, fans knew where to find them! Emma joined Justin and NASCAR stars Carl Edwards and Greg Biffle on Sunday's Extreme Makeover: Home Edition on ABC in honor of the Remember Alex Brown Foundation, a nonprofit founded in memory of 17-year-old Alexandra Brown who died in a texting and driving accident.
Article continues below advertisement
"Although no other vehicles were involved, Alex was not alone," her mother Jeannie wrote on the foundation's official Web site, explaining what it was like getting that call and finding her daughter's rolled over pick up truck. "The cell phone on which she had sent and receive over 10,000 text messages in the weeks preceding her accident was with her."
Now, on year after Alex's death, volunteers took the Brown home in Lubbock, Texas by storm, rebuilding it for the three family members who needed assistance — Jeanne, Johnny Mac, and Alex's 12-year-old sister Katrina.
"If Alex was here and seeing all this she would be so excited for us," Katrina said "She'd be like, 'I'm so glad y'all are getting this! Y'all are doing good. Keep going.'"
Article continues below advertisement
The day she passed away, her family decided to star up the Remember Alex Brown Foundation.
"I chose to do it that day at the hospital," her dad. "We have to put the wrecked truck on a trailer and we have to go to schools and tell people about the dangers of texting and driving."
It seems like Emma was a natural fit for this emotional episode of the family TV program.
OK! NEWS: EMMA ROBERTS REMOVES TWITTER AFTER REAM JACOB ANNOUNCEMENT
"She's an incredible young actress," said host Ty Pennington, "and she's a teen so she understands how big of an epidemic texting and driving is."
The actress explained that she was touched by Alex's story and knew she had to help get the word out.
"After hearing Alex's story I just think texting and driving is really a problem," Emma explained on the show. "To hear that this happened to someone so young — that really kind of was a little bit of a wake-up call. I have a nine year old sister and to think of her losing me, or me losing her — I can't even comprehend that."
One dollar from every concert ticket sold was donated by Justin to the Brown family's cause and he invited 12-year-old Katrina and her friends to his sound check party!
He also signed the don't text and drive pledge.
Catch Emma and Justin's involvement with the Brown family below!