NEWS
Emma Stone & Andrew Garfield Gush About Their 'Spider-Man' Chemistry: There Was a "Spark"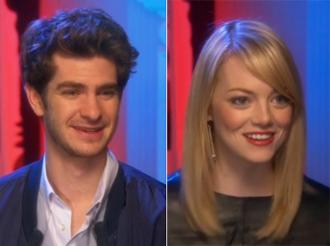 Emma Stone and Andrew Garfield are officially a couple these days, but it was during their screen test for The Amazing Spider-Man where their love connection started.
The co-stars and lovebirds gushed about their on-screen chemistry to Access Hollywood, revealing there was an instant "spark" between them.
OK! GALLERY: ANDREW GARFIELD & EMMA STONE POSE AT A PHOTOCALL FOR THE AMAZING SPIDER-MAN
"She screen tested with me and it was really just a beautiful day of... like a spark and we just had a fun time really and we played. It was playful," Andrew said of Emma, adding, "It became very, very playful and free and there was nothing serious about it, it was just play, as it should be."
Article continues below advertisement
Andrew is thrilled that, so far, viewers have seen the connection between him and Emma, saying that the chemistry between Peter Parker and Gwen Stacy is the thing that really brings the film together.
"That's so important to have a spark. That's a lucky thing," the actor explained. "It's fantastic when two actors find a way of working together that compliments them because we're different actors. We're very, very different actors and it's really a wonderful thing because we're opposites in a lot of ways and I think that makes sense."
And Emma couldn't agree more. "I'm so glad our chemistry shows," she gushed. "That means the world to me."
OK! GALLERY: CUTE COUPLE EMMA STONE & ANDREWQ GARFIELD HOLD HANDS WHILE STROLLING IN NYC
As for what it was like seeing Andrew in the Spidey suit for the first time, Emma says her beau literally took her breath away.
"He was very quiet. He was completely overwhelmed," Emma said of Andrew. "I think he walked onto the set for the camera test, and I was in my Gwen getup and everyone on set was like, 'You're on set with Spider-man.' It was such an incredible moment and I touched him.... I mean it's unreal to see him walk in."
These two obviously have chemistry on and off the set and we love it!