NEWS
Emma Stone Reveals She's Guest Starring on Her "Favorite Show of All Time" — 'iCarly'!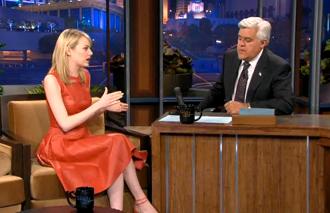 Emma Stone is the "it" girl in the film industry right now, but that doesn't mean the actress isn't up to do guest appearances on Nickelodeon shows!
Emma stopped by The Tonight Show last night and confessed that she has seen every episode of Miranda Cosgrove's hit series, iCarly! But wait, that's not all. The 23-year-old also revealed she just shot a guest appearance that will air in the upcoming season!
Article continues below advertisement
"It's so funny, it's so good," Emma continued. "I've met many ,many people, adults and kids alike, that love this show. The cast is insanely amazing. The creator Dan Schneider did All That and The Amanda Show and all those great shows from Nick."
OK! NEWS: EMMA STONE CONTEMPLATES WHO'S THE BETTER KISSER: RYAN GOSLING OR ANDREW GARFIELD?
So, how did Emma get the opportunity to guest star on her "favorite show of all time?" Luckily, she was introduced to the cast and crew in NYC a few weeks back.
"I had gone to the Mick Jagger SNL episode and I met Dan Schneider and the cast at the after-party, because they all went to see the show, and I told Dan that I was a giant fan of his," Emma explained. "And he invited me to do a little part where I literally play a super fan of the show. I play a girl named Heather and I just go in and I go, literally, bat sh… stuff crazy!"
Are you excited to see Emma's cameo in on iCarly?