NEWS
Emma Stone "Went Spider Monkey" on Ryan Gosling & "Kicked Him" in 'Crazy, Stupid, Love.'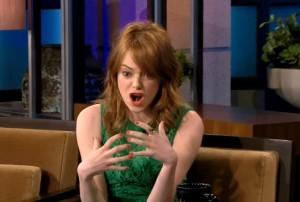 Article continues below advertisement
The goal was to have Ryan lift Emma above his head, but Emma had a panic attack and couldn't do it!
"I ran for him to pick me up, and I don't know what happened," she said. "I went spider monkey around his head and kicked him in the throat."
Emma says she then had to go lie down and discovered she has a fear of heights from having broken both her arms when she was younger playing on parallel bars!
OK! VIDEO: WATCH RYAN GOSLING PERFORM DIRTY DANCING LIFT WITH AL ROKER ON TODAY SHOW
Ryan has shared his side of this Dirty Dancing drama and had a funny way of describing Emma.
"Emma was convinced I was going to drop her. She turned into a bag of rats, going all over the place," Ryan told Extra. "I lifted the double every time. Every time. And she was like, 'Uh huh, uh huh... No, not doin' it!' "
Watch a clip of Emma's interview (via AOL TV) below!