NEWS
Emmy After-Party Highlights: Charlie Sheen & Ashton Kutcher Meet; Jon Voight Dishes Love For His Grandkids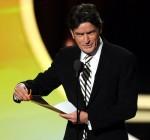 Last night after the stars sparkled at the Emmys, they painted the town red! At the HBO after-party at the Pacific Art & Design Center in L.A., Kevin Dillon witnessed Charlie Sheen and Ashton Kutcher meeting for the first time in an "epic moment." Not only that, Jon Voight also dished tons of love for his grandkids but when it comes to talking more about them, his lips are sealed!
Although Charlie presented on stage for Outstanding Actor in a Comedy Series, after the cameras stopped rolling is when the poignant moments really kicked in. Kevin told OK!, "You know, I was hanging out with Charlie and him and Ashton Kutcher met for the first time and I was right there. It was like this epic moment. They were really cool and classy for each other." He added, "I guess that would be the highlight of the night right there! They were both real gentlemen with each other."
Article continues below advertisement
OK! NEWS: MODERN FAMILY WINS BIG AT 2011 EMMY AWARDS
After all, who knows how that could have panned out, right? Kevin admitted he was a little nervous not knowing what would happen. Then he noted, "I turned after Ashton walked away, to Charlie and said, 'Whoa, that was crazy!' And he said, 'Yeah!' He was great."
OK! NEWS: CHARLIE SHEEN TELLS MATT LAUER ON TODAY, "THAT WAS JUST ONE CRAZY CHAPTER"
Switching gears, Jon was also at the after-party and told OK! the best part about being a grandfather is that he appreciates "so many things." He pointed out, "I love my children, then to see my children having children, it's a terrific thing. I think you fall in love, it's a kind of love that you have, a pure love."
As for any of the kids' milestones that have blown him away, his lips are sealed. He revealed, "You know I can't talk about Angie and the kids, it's just like a deal we have, I don't talk about them."
Reporting by Amanda Champagne
%%{link_img}%%