NEWS
Emmy Nominations Snubs: Glee's Lea Michele, Darren Criss & 'True Blood' Top the List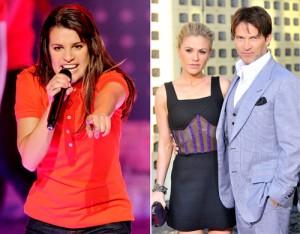 With every award show nomination announcement, there is the unfortunate group of celebrities who seemed to have been overlooked. Nods for the 2011 Emmys were announced this morning and some of our favorites were snubbed — starting off with Glee.
Hot off the official announcement from Glee creator Ryan Murphy that Lea's days as Rachel Berry will soon come to an end, the hot young singer/actress was not nominated for her role as the anal retentive singing sensation at William McKinley.
Article continues below advertisement
Darren Criss launched to superstardom with his role as Blaine on the hit Fox dramedy — and finally gave Kurt his first kiss — but was not recognized for his work, and neither was Matthew Morrison (Mr. Schuester).
Both Jane Lynch and Chris Colfer received the nod for their supporting roles.
From a teen glee club to the vamps of True Blood!
The HBO drama was always a true competitor, but not this year, raking in only four nominations, including one for guest star Alfre Woodard for Guest Role in a Drama Series Actress.
But there has still yet to be recognition for Anna Paquin and Stephen Moyer's acting chops.
While her Friends co-star Matt LeBlanc was nominated for his comedic chops in Showtime's Episodes, Courteney Cox was snubbed for Cougar Town.
Article continues below advertisement
Joel McHale has been shooting Emmy promos with Melissa McCarthy, but was not good enough for the Academy to give him a nod in Community.
And what about beloved Emmy host Neil Patrick Harris? Maybe one of these days the actor will be recognized with a statue for his role as Barney in How I Met Your Mother.
Some other snubs, pointed out by Entertainment Weekly, include: J.J. Abrams' series Fringe; the ladies of Desperate Housewives; director/producer/writer Chuck Lorre (as he writes the parts of two Emmy nominees this year Jon Cryer (Two and a Half Men) and Melissa McCarthy (Mike & Molly) and Kyra Sedgwick for her role in TNT's The Closer — which nabbed her the Best Actress in a Drama Emmy last year!
Any additional snubs you noted? Sound off in the comments.