NEWS
Emmy Rossum on Playing the Bad Girl: 'Shameless' Made People See Me a Little Bit Differently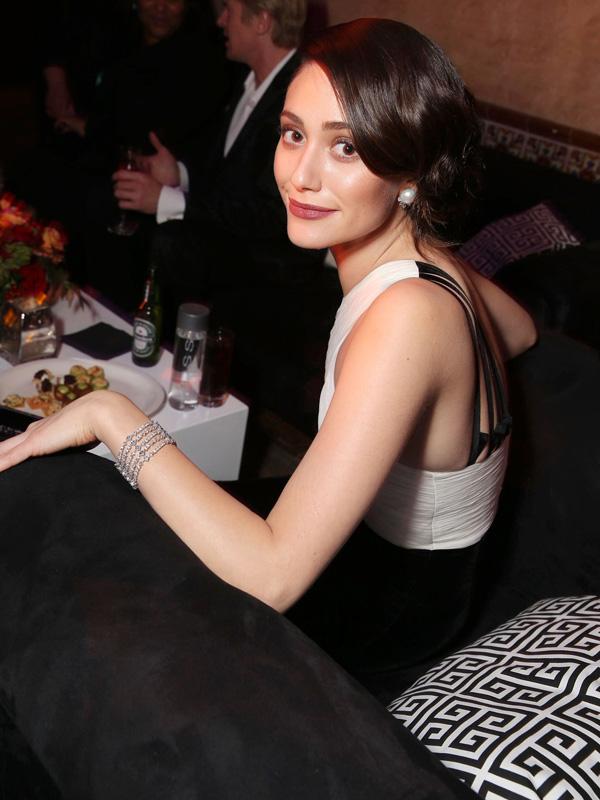 For years Emmy Rossum played the sweet and lovable good girl in films, but now the actress has shown a whole new side as to what she can do on the big screen and we love it!
The talented 26-year-old stars in the new movie Beautiful Creatures as the evil witch Ridley and she chatted with us at the SLS Hotel in Los Angeles about how she transitioned from playing the person everyone loves to the character everyone loves to hate.
Article continues below advertisement
OK! LOOK OF THE DAY: EMMY ROSSUM'S PRETTY BLUE DRESS
"I finally feel confident enough in myself to actually just kind of be pretty bare and just be who I am, but I think I found a lot of comfort in the safety zone of playing good girls for a long time," she said.
Emmy said she found that confidence in her role on Shameless as the trashy party girl that shows a lot of skin on the show.
"I think Shameless made people see me a little bit differently," she confessed.
She admitted she's always had the ability to play characters that don't have a strong moral code and she's happy she's letting that part of her come out now.
OK! GALLERY: EMMY ROSSUM AND WILLIAM H. MACY STEP OUT FOR SEASON TWO PREMIERE OF SHAMELESS
"I definitely have that in me, but I think everybody has everything in them. You have the ability to kill. You have the ability to love. Women, to bear children. You have so many things and emotions within you, that it's just a question of feeling comfortable enough to access them, she said.
Article continues below advertisement
"And I think being in this environment like Shameless, in this family environment, I really felt comfortable enough with the people around me to start really pushing myself really hard into different areas of characters and into not having to feel like I was a likable character at all times. And I think that that was a big breakthrough for me."
OK! GALLERY: EMMY ROSSUM SHOWS OFF HER BASKETBALL LOVE IN NYC
Emmy added: "When I did The Day After Tomorrow I asked the producer what my intention as a character in the movie was. And he said, 'Be nice. Be the nice girl.' And I just thought, 'okay. Maybe that's all I am' because I got cast as that over and over and over again, and eventually, I thought, 'Well, screw that.' I'm going to do something different, and I'm going to play unlikable and prove that – I'm going to find that humanity under each one of these characters that are aggressive, that are boisterous, that are in your face. I'm going to find the reason that they are that way."
Article continues below advertisement
And that's just what she did with her character in Beautiful Creatures.
"It was really fun for me to kind of inhabit both sides of it, pre- and post-claiming Ridleys, but for me, the character was the evil, but kind of brand of her evil is almost a little comical and humanized because you understand where it's coming from, a place of disenfranchisement from her own family, the kind of need to act out, the kind of need to have attention and to have all these boys kind of fawning after her because she couldn't feel good about herself, really underneath it all. She needs that like viscerally and needs to control and needs to kill. So for me, that was all a very interesting, strange head space to be in, but really fun."
Beautiful Creatures hits theaters Feb 14.
What's your favorite role Emmy has been in? Tell us @OKMagazine