NEWS
Emmy Rossum Still Romancing Adam Duritz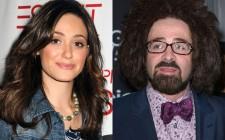 Emmy Rossum confirms she is going strong with Counting Crows rocker Adam Duritz during Tuesday's grand opening of Espirit's flagship store in NYC.
The May-December couple have been dating since September -- one month after Emmy split from secret husband Justin Siegel.
Of their relationship, the Phantom of the Opera star, 23, tells me, "I'm very happy. He's too special."
Jennifer Aniston, Courtney Cox Arquette and Mary-Louise Parker would agree, considering they were also wooed by the dreadlocked 45-year-old musician.
Article continues below advertisement
Emmy, who is wearing Espirit, looks amazing.
What's her secret?
"Try to sleep a lot," she tells me. "I know everyone says that, but it's really true. And exercise. It raises your endorphin level and makes you happy. It's something you can do for yourself to clear your head. Hopefully you're not looking at your cell phone during your class or when you're on the treadmill, and you can zone out with your music and relax."
Hmm, how much sleep does Emmy typically get?
"Last night it was three because I was on a plane and curled up in a very awkward position, but usually it's eight," she says. "I'm a pretty solid sleeper."
Time to head inside, where Emmy gets to choose an Espirit gift card from the fishbowl downstairs, and sample appetizers including mini burgers, French fries with a dollop of ketchup and fried macaroni and cheese with truffle oil. Delish!
Catch Emmy in her new TV series, Shameless, which is set to debut in September.