NEWS
Emmys Pull Plug on Sally Field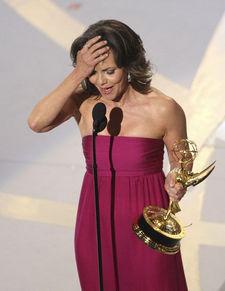 Twenty-two years ago, made one of most quoted Oscar speeches ever when she told the crowd, "You like me... You really, really, like me!" while accepting her Oscar for Places in the Heart. After she was handed the statue for Outstanding Lead Actress in a Drama at last night's Emmy Awards, the Brothers and Sisters star gave a far different kind of acceptance—one that would also have been memorable had the Emmy censors not cut off her microphone and cut away from her mid-speech.
Article continues below advertisement
"Let's face it," Sally began her censored sentence after having gotten off on an anti-war tangent. "If the mothers ruled the world, there would be no damned war in the first place!"
Apparently, the folks at the Emmys had the D-word on their no-no list and cut away abruptly, broadcasting only an odd shot of a disco ball hanging above the Shrine Auditorium.
When told about the plug-pulling by reporters backstage, Sally let it slide. "I don't care... I wanted to pay homage to the mothers of the world and let their work be seen and be valued."
Sally wasn't the only one to get the mute button from the censor. During his monologue early in the evening, the show cut away from as he made an allegedly blue joke about co-stars and being intimate. And Grey's Anatomy's was so surprised by her Emmy win that she mouthed the S-word on camera. For shame!!