NEWS
ENTOURAGE BAGS SIXTH SEASON!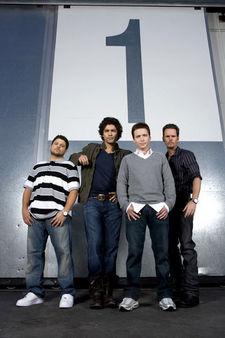 Oh ye-ahh!
It's just been announced that those Entourage boys are coming back for a sixth season of Hollywood hell-raising.
HBO said today that it's signed up creator Doug Ellin and exec producer Mark Wahlberg to make another set of shows chronicling the showbiz rollercoaster ride that is Vincent Chase's movie career.
The usual sizzling cast -- Adrian Grenier, Jerry Ferrara, Kevin Dillon and Kevin Connolly -- are all on board, Emmy-winner Jeremy Piven will be back to play agent/maniac Ari, and Perrey Reeves and Rex Lee will suffer on as his wife and PA respectively.
Article continues below advertisement
"I never imagined when we started that we would make it to six seasons," Ellin said today in a statement. "HBO has been amazing in allowing the show to grow and mature."
And apparently its not just the cast and crew who are psyched -- the real-life inspirations behind Vinny and his crew can't wait for it to hit the screen either.
"We just spoke to the real Johnny Drama," said exec producers Wahlberg and Stephen Levinson, "and he is overjoyed by this pick-up."
Production is set to begin early next year, with season six of Entourage due to begin airing in Summer 2009.
Season five is currently showing Sunday nights at 10:00-10:30 p.m. ET/PT, also on HBO.