NEWS
'Entourage' Cast Recalls Bono Birthday Shout Out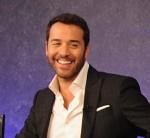 What could be more magical than Bono from U2 giving a shout out on stage in concert (in Spanish, no less) to one of the characters of Entourage? Prior to their highly anticipated final season premiere on Sunday night, the cast chatted at The Paley Center for Media in NYC and recalled that special moment from season two.
OK! NEWS: THE ENTOURAGE BOYS ARE BACK FOR SEASON 8
With the approach of the last hoorah, it's time to look back. On Wednesday night Adrian Grenier, Jerry Ferrara, Kevin Connolly, Kevin Dillon and Jeremy Piven, along with the creator Doug Ellin, talked about acting as actors and called each other brothers for life.
Article continues below advertisement
According to the Huffington Post, one of their most memorable moments while shooting came during the ninth episode of the second season when Jeremy asked Bono to say, "Happy Birthday" on stage to Johnny Drama on the mike. "I know what it's like to be a really really creepy person," said Jeremy. He had to sit there, stare at Bono backstage until that one magical moment to ask him the question! Jeremy recalled, "He was so sweet. His response was, 'I don't see why not.'"
OK! GALLERY: ENTOURAGE THROUGH THE YEARS — GEAR UP FOR SEVENTH SEASON DVD RELEASE & SERIES FINALE
Adding even more drama and intrique, the cast had no idea when it was coming and then the lights went out, all of the sudden Bono said it! Not only that, he said it in espagnol! Doug added, "I'm yelling, "Kevin, hug Adrian!" The lights go down and if you watch it, we had no idea whether or not it would be on film. It really is one of the most magical moments. One of the many breaks that we caught."