NEWS
Jeffrey Epstein Used Power and Privilege to Manipulate Famous Friends, 'Devil in Darkness' Podcast Reveals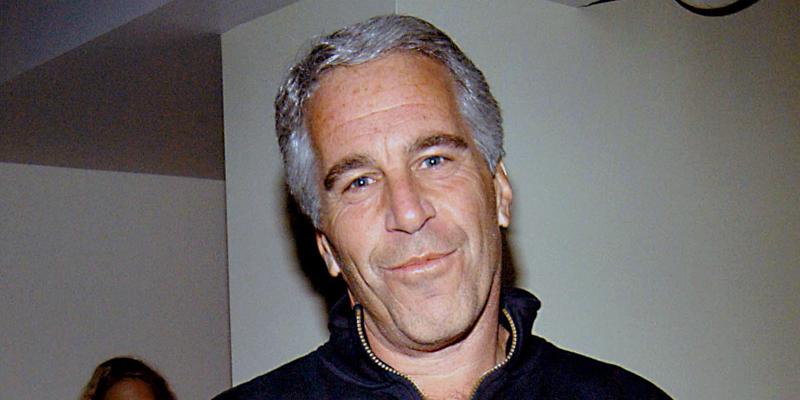 Jeffrey Epstein's infamous "little black book" played an instrumental role in how the late convicted sex offender maintained his status. Episode 3 of "Epstein: Devil in the Darkness" explores how the infamous figure made connections to the rich and powerful — and how he gathered dirt on all of them. In the latest episode of the podcast, Epstein's old friend Stuart Pivar described Epstein as "outgoing," "friendly" and "humorous." But Epstein's ability to manipulate the people he befriended is also on full display.
Article continues below advertisement
Journalist Laura Goldman was friends with Isabel Maxwell — the sister of Epstein's right-hand woman, Ghislaine Maxwell. "He had the cash, she had the connections," Goldman explained during episode 3, titled "Chapter Three: Little Black Book - Politicians, Power & Privilege." She claimed one of Epstein's most high-profile friendships — the one he shared with Prince Andrew — was facilitated by Maxwell. She was friends with Prince Andrew's ex-wife, Fergie — also known as Sarah Ferguson, the Duchess of York. Fergie then introduced Maxwell to Prince Andrew, and Maxwell introduced Prince Andrew to Epstein. From there, their friendship was formed.
The royal wasn't the only high-powered figure in Epstein's inner circle. The late investor also was friends with former President Bill Clinton and the Microsoft founder Bill Gates. But what did a man like Epstein have to offer his powerful pals?
"Rich people are cheap," Goldman said. "And rich people love nice things. I believe that Jeffrey Epstein understood that. And he provided people like Bill Gates, Bill Clinton, with luxurious private planes, and they just ate it up. It's a sad commentary on our society ... he understood your weak point." For Epstein, it was all about privilege and power. He made connections to politicians, royals, and academics alike. And then he gathered materials for potential blackmail against them.
Article continues below advertisement
Former Palm Beach County Deputy Sheriff John Mark Dougan spoke exclusively with the "Devil in the Darkness" team about the literal thousands of DVDs Epstein allegedly had of footage from rooms in the disgraced financier's Palm Beach mansion. "Every bedroom in Epstein's houses had multiple cameras in them," he explained. "He used to keep records of everybody. He used to store everything. So the Palm Beach Police Department, they knew that there were thousands and thousands of these DVDs. Except ... Now, this is very interesting. When they went to search for them, they were gone."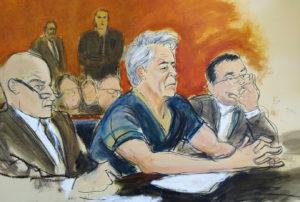 Host Danielle Robay also noted that Donald Trump's Mar-a-Lago resort became a "personal bachelor pad" for Epstein and Trump. The president has since denied the two were close, and said in a statement in July 2019, "He was a fixture in Palm Beach. I had a falling out with him a long time ago. I don't think I've spoken to him for 15 years. I wasn't a fan. I was not — yes, a long time ago. I'd say maybe 15 years. I was not a fan of his, that I can tell you. I was not a fan of his."
Article continues below advertisement
But that's just the tip of the iceberg of those who were connected with Epstein and were listed in his "little black book," which was leaked in 2015. Other individuals included the likes of Woody Allen, David Blaine, Alec Baldwin and many more. And as for his connection to Prince Andrew, he, too, has tried to distance himself from the convicted criminal. He said in a statement that it was a "mistake and an error" to see Epstein following his release in 2010. "I can only reiterate my regret that I was mistaken to think that what I thought I knew of him was evidently not the real person, given what we now know ... I am at a loss to be able to understand or explain Mr. Epstein's lifestyle," Prince Andrew stated.
Then there are the donations Epstein made to institutions like Harvard and MIT. Journalist Melissa Cronin, who is an alumnus of Harvard, said, "His ties to Harvard definitely ran very deep. But it's clear that Harvard basically disowned him after his sex crimes were exposed." It really remains to be seen how many more politicians, members of Hollywood, academics and other powerful figures will be exposed themselves as having been a part of Epstein's tangled web as the investigation into his sordid lifestyle continues.
Article continues below advertisement
"Epstein: Devil In Darkness" is produced by the creators of "Fatal Voyage: The Mysterious Death of Natalie Wood," which earned over 10 million unique downloads and more than 50 million media impressions worldwide as one of the most downloaded podcast series of 2018. The series was also named to Apple Podcasts' Most Downloaded New Shows of 2018 and received a 2019 Webby Best Series honoree nod from the International Academy of Digital Arts and Sciences. You may have seen the series featured on national television programs including Dr. Phil and The Today Show.
"Epstein: Devil In Darkness" releases new episodes every Thursday.