NEWS
Eric Bana Compares Wife To Car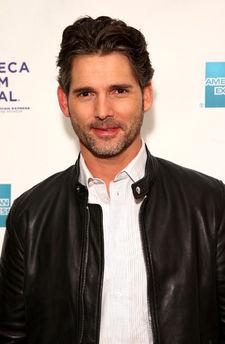 Eric Bana sets hearts racing during the Tribeca Film Festival premiere of Love The Beast held Wednesday at NYC's SVA Theatre.
The 6'2" Aussie actor, 40, made his mark playing the Hulk in 2003 and will fire up the silver screen in Star Trek next week.
But tonight he's all about Love The Beast, his documentary about his first car, and there's no swaying the married father of two from the topic at hand.
Article continues below advertisement
What's his favorite thing to do in his car?
"Just purely and simply drive," he tells me in that familiar Aussie accent. "It's just my favorite thing to do and has been since I was too young to drive. I started driving when I was about six. My mom and dad used to take me to the paddock and let me drive around. I just couldn't wait to get my license. I was just always obsessed with it."
He never imagined old home movies and photos would see the light of day.
"I was very fortunate when I realized it would be very handy to have archival footage," he says. "I just dug, and dug, and dug, and turned drawers upside down and found more than I thought I had. But it was very fortunate because if there's one thing you're not doing when you're a 15-year-old boy, it's taking photos of yourself and your mates."
Hm, what's the most romantic destination in Australia?
"Oh God, I couldn't think of one off the top of my head," he says, and stammers when asked why he and his wife make a good couple.
Like his first car, his wife Rebecca, whom he wed in 1997, holds a special place in his heart.
"The longer you have something, the stronger the bond," he says. "That's true with people as well as things."
Post-premiere, Eric attends the Love The Beast afterparty held at Ace Bar in the East Village where he drinks Heineken and mingles with Star Trek costar Zach Quinto. Good times.