NEWS
Eric Bana Squashes Boleyn Cat Fight Rumors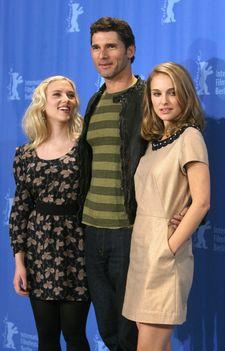 It's probably every heterosexual man's fantasy to have two beautiful women competing for his affection. In the new movie The Other Boleyn Girl, Eric Bana plays a young King Henry VIII, who is lusted after by two beautiful and ambitous sisters, Mary and Anne Boleyn.
Bana's co-stars in the film, Scarlett Johansson and Natalie Portman, are perhaps as notoriously famous for their beauty as the characters they play. But while the two competed maliciously on screen for Henry's attention, on set, things were much less dramatic. "I hate to break it to you but actors really do love each other," Bana said at a press conference following The Other Boleyn Girl's world premiere at the Berlin Film Festival.
Article continues below advertisement
In the film, adapted from the best-selling novel by Phillipa Gregory, Portman plays the scheming and ultimately doomed second wife of King Henry VIII, Anne Boleyn — (mother of Queen Elizabeth I and later beheaded for treason). Johansson plays her sister Mary, who also vies for Henry's attention and, for a while, is his mistress. "People keep asking if the rivalry was real, but it was the opposite because we just liked each other so much," said Portman, 26. "It was such a rare opportunity to work with an actress my age who I admire so much."
MORE ON:
Scarlett Johansson
Johansson, 23, said Natalie was so concerned about how mean her character was in the film that she was constantly apologizing. "Natalie was apologizing all the time. She'd say, 'I'm sorry for stealing your baby,' and I'd say, 'Don't worry. Let's get dinner later,'" said Johansson.
The three actors visited several historic locations for inspiration for their characters. Both Bana, 39, and Johansson said the cast thrived on friendly competition during filming.
"It really was challenging," Johansson said. "It was a very healthy competition among all of us to raise the scene to the next level and keep the energy up. It was impressive every day."
The Other Boleyn Girl opens in theaters on Feb. 29.