NEWS
Erin Burnett Remembers CNBC Anchor Mark Haines: "He Made Me Feel Important"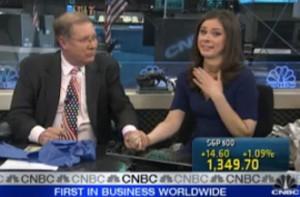 When Erin Burnett left CNBC earlier this month, Mark Haines got emotional saying goodbye to her. Now, Erin says goodbye to Mark, after his sudden death yesterday evening.
OK! NEWS: CNBC ANNOUNCES ANCHOR MARK HAINES HAS DIED AT AGE 65
CNBC announced this morning that Mark died at his home Tuesday evening at the age of 65.
"On our first show together," Erin recalled to MarketWatch, "he had an incredibly generous moment. He made it clear he accepted me from the get-go. He treated me as an equal. He made me feel important."
Article continues below advertisement
But Erin said she wants CNBC viewers to know that Mark was really a loving family man and liked some of the very same things his children liked.
"He loved to watch Jersey Shore," she said. "He got a kick out of it."
"He loved to do things for his kids," she added. "He was always on the Web, looking for things his kids might like."
And his daughter enjoyed being on the stage "and Mark went to all of her shows," Erin said. "He worked with her a lot on her DVD."