NEWS
Watch Meredith Vieira Tearfully Announce 'Today' Departure & Congratulate Ann Curry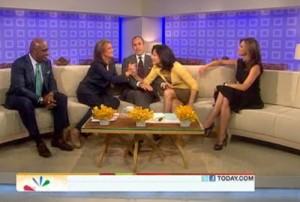 Meredith Vieira tearfully announced this morning that she will be leaving the Today show to spend more time with her family. Taking Meredith's place is Ann Curry and the ladies got a little emotional saying goodbye to each other...over Matt Lauer's lap.
OK! NEWS: MEREDITH VIEIRA MAKES BIG ANNOUNCEMENT; DECIDES TO LEAVE 'TODAY'
"This is a difficult day for me," Meredith said on Monday on Today. "I'm going to try to hold myself together here. But after months of personal reflection and private conversations between my family and my friends, I've decided to leave Today in June.
Article continues below advertisement
"I've really had a great time, but time is one of those weird things; you can never get enough of it," she said. "And it just keeps ticking away, and I know that I want to spend more of mine with my husband, Richard, and my kids, Ben, Gabe and Lily."
OK! NEWS: MATT LAUER ALSO PLANNING TO LEAVE TODAY LIKE MEREDITH VIEIRA?
And Ann has been announced as Meredith's replacement as co-anchor with Matt.
The ladies held hands and kissed cheeks across Matt's lap and Ann said, "You've been a gift to this broadcast. You have been generous and you have been a great girlfriend."
Matt said he will miss Meredith, but is also excited for Ann.
"Ann has been such a key member of this show for more than 15 years, has brought her warmth and her desire to tell important stories to Today," he said. "And I know you'll continue to do that, so congratulations."
Natalie Morales, who has been a member of the Today family for over five years, will be taking Ann's former role.
Watch Meredith's announcement below!