NEWS
E!'s 'Daily 10' Host Catt Sadler Shares Her Top 10 Golden Globe Moments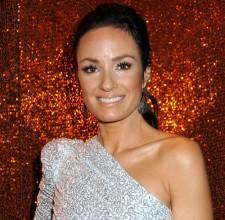 The 67th Annual Golden Globes kicked award season into high gear last night, even despite the rainy weather! Hollywood's best and brightest stars sparkled and sizzled down the red carpet, sending their love and support to Haiti as they moved along. Of all the tipsy speeches and onstage jokes, E!'s Catt Sadler picked 10 of her favorite moments to share with OK!.
10. Insider Beauty Secret: Jay Manuel, from America's Next Top Model, helped me slip on my Spanx in the Beverly Hilton Hotel before the show!
Article continues below advertisement
9. Zoe Saldana and the AVATAR team celebrating their two big wins for the night (Best Picture and Best Director for James Cameron). But they couldn't party too much — they had a LIVE 4:00 a.m. interview on the Today show!!
8. Kevin Dillon admits to me on the red carpet that his tux is recycled from last year. After all, it is a recession.
7. Kevin Connelly admits he gets really nervous for red carpet interviews. Like Really Nervous! But he's so adorable, he could just read the phone book and we'd love him.
6. Patricia Arquette confirming to me that her husband, Thomas Jane, is in fact Hung. And that is precisely why their marriage will last.
For the rest of Catt's Golden Globe Top Moments, you'll have to wait for the new issue of OK! — on sale everywhere Thursday!