NEWS
Estimated 215,000 Attend Jon Stewart's Rally to Restore Sanity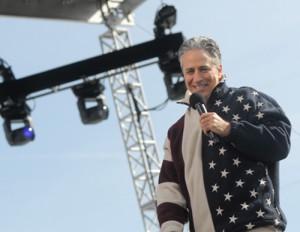 Jon Stewart and Stephen Colbert certainly rallied the troops this weekend. First reports suggest tens of thousands attended the Rally to Restore Sanity and/or Fear organized by the Comedy Central hosts in Washington D.C. — but more recent findings show more than 200,000 people congregated on the National Mall to hear what the hosts had to say.
According to a CBS news report, 215,000 attended the three-hour political gathering.
Article continues below advertisement
Jon joked during the rally that there were ten million people present and even recognized the difficulty in estimating the number of those in attendance. His solution? The host promised he would "count them all."
In case you missed the coverage of the really, check out the Gregory Brothers, of Auto-tune the News fame, who recently released this remix of Jon Stewart's speech below!